CivilPro Cloud Beta access available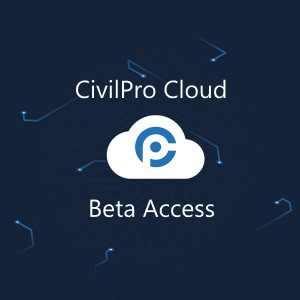 We have been working on bringing CivilPro into the cloud for a while now, and we are finally super close to launch!
CivilPro Mobile End of Life
With the upcoming release of CivilPro Cloud, the CivilPro Mobile will be phased out. We will announce the Mobile End of Life in a separate post. If you are an existing Mobile user, this will give you all of the information that you need to know, as well as migration options for the Cloud.
Where the Beta is right now, and where it will go
If you are a CivilPro Desktop user, you will notice a lot of changes in the Cloud (especially around the Dashboards, UI/UX, etc). However, once you dive in, you will find your feet pretty quickly.
CivilPro Cloud will stay as a Beta for several months – so this is the perfect time to start a paid trial, as it comes with a Beta discount!
Unsure of what Plan you should choose (Desktop, Cloud or Teams)? Check out our Pricing FAQ.
Interested in Beta Access?
If you want to know more about CivilPro Cloud, you can request a free or paid trial.
Existing Desktop Customer?
If you are an existing Desktop customer, contact our Sales Team for more information and migration options.
We can't wait to lift you into the 'clouds'!
https://civilpro.com/wp-content/uploads/2020/11/CivilPro-Cloud-Beta-Access.jpg
300
300
Drew Povey
https://civilpro.com/wp-content/uploads/2020/07/Civil-Pro-landscape-positive-900x303.png
Drew Povey
2020-11-10 07:00:43
2020-12-02 06:50:02
CivilPro Cloud Beta access available